HST & Friends
About HST
+
Who is HST?
Biographies
+
E. Jean Carroll
+
William McKeen
+
P. Paul Perry
+
Peter O. Whitmer
Interviews
Media Treatments
HST's Friends
---

---
Fear And Loathing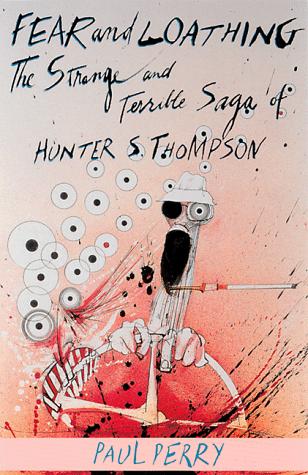 Out of four biographies to date about HST, you just know that one of them has to be a little trashy. That's not saying that Fear and Loathing: the strange and terrible saga of Hunter S. Thompson (" An unauthorized biography") by Paul Perry (Thunder's Mouth Press, 1992) is a total waste of pulp, but it's the biography I like least.
Like Carroll, Whitmer and McKeen, Perry can claim more than the usual personal encounter with Hunter. It was Perry, after all, that managed to get him to write "Charge of the Weird Brigade" for Running magazine which eventually became The Curse of Lono; as well as numerous books on the counterculture, including Ken Kesey.
First things first though. The cover has a gorgeous Steadman portrait of HST, much like the one that graced RS 622. On the back, Ralph has scrawled in red:
Oh! That sleazy brain damaged cretinous BASTARD! Don't ask me about him.
Ralph is the source for the later chapters of the book, and it's delightful to read his versions of what happened at the Kentucky Derby, the failed prank at the America's Cup, and dealing with Hunter's paranoia in Zaire. Also, Ralph tells of visits HST made to England. Perry also has the inside word of former Rolling Stone staffers.
The photo section consists of 14 pages of black and white photos, quite different from the other bios. The first set of pictures are mostly of HST and Paul Semonin in South America and California, while the second set features pictures of Owl Farm and Hunter in some more tamer moments.
The book also has an index, which is a blessing. I want to stress that it's not a bad book, and I do own a copy I bought for $2 second hand...but the lack of depth and detail is annoying, and some of the dates don't match with the other biographies...and there are gaps, which Whitmer's book so painstakingly fills.
For example, two and a half pages at the end of the book are scantily devoted to HST's 1990 lifestyle bust. When I say scantily, I mean, very undetailed. Knowing that Songs of the Doomed was the replacement for a novel that HST had promised Jim Silberman really isn't enough; Whitmer and Carroll do a much better job, especially Carroll, who gets the bubbly words of Gail Palmer-Slater down. Even fewer space is devoted to Generation of Swine and HST's Examiner columns. As expected, the book's strong parts are when Perry recounts what is was like to put The Curse of Lono together, and Ralph's memories.
Perry's book fails to really show HST as anything other than a perpetually stoned and violent writer. It perpetuates the myth of HST as perceived by the non-reading gonzo fan - that of an extremely weird, always drunk hillbilly. Of course, HST may be that, but the literate gonzo reader knows better. There are hardly any details about HST's family. Perry introduces Chapter 4 with "Sandy was enormous and about to deliver." I find this really insulting as a woman reader, and insulting to Sandy Thompson. Like most wives of famous men, her role here is virtually non-existant.
In this biography, there is little sensitivity...which might also be interpreted as dullness and boredom. Carroll's book had the novel twist of alternating between Tishy Snap, who brought out the perverse side of HST with biographical anecdotes. Whitmer's book was more detailed and decided to reach back in time to show that gonzo was as American as apple pie. Perry's book is, well, an ordinary biography. With such an extraordinary subject, one would think that he could have found a more engaging way of presenting it.
Like I said, it's not that bad a book. It contains little details not found in the other bios, but still, it could have been as good as Whitmer's book if Perry had tried harder. It does compliment the other biographies nicely though.