HST & Friends
About HST
+
Who is HST?
Biographies
+
E. Jean Carroll
+
William McKeen
+
P. Paul Perry
+
Peter O. Whitmer
Interviews
Media Treatments
HST's Friends
---

---
Who Is (Dr.) Hunter S. Thompson?
Last updated March-22-05
I found it a little cumbersome to change all the "is" to "was", so I have left it the way I originally wrote it, for the most part, back in 1996.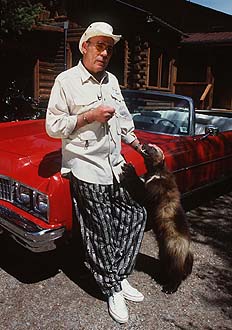 A more comprehensive biography/timeline can be found in The Life of Gonzo, a decade by decade look (up to 1969) of this extraordinary life.
(Dr.) Hunter S. Thompson was born July 18, 1937 in Louisville, Kentucky. After a crime-filled youth, he enlisted in the Air Force as part of his parole. At Eglin AFB, he worked as sports editor for the base paper. Following his discharge, he worked at various writing jobs, most of which proved fruitless. He spent some time in the late fifties and early sixties writing newspaper articles in South America for American papers. He returned to the states and set up his home in Woody Creek, Colorado, on Owl Farm, although he was continually on the road. He gained fame for his first book, Hell's Angels: A Strange and Terrible Saga, in which he spent a year living and riding with the motorcycle gang until a disagreement caused them to stomp him and break his nose. In 1970, he ran for sheriff of Pitkin County on the Freak Power ticket and narrowly lost to the incumbent. He is most famous for his brand of supersubjective journalism, called "Gonzo".
Other books include: Fear and Loathing in Las Vegas: A Savage Journey to the Heart of the American Dream; Fear and Loathing on the Campaign Trail 72; The Great Shark Hunt, Gonzo Papers Vol. 1: Strange Tales from a Strange Time; The Curse of Lono; Generation of Swine, Gonzo Papers Vol. 2: Tales of Shame and Degradation in the Eighties; Songs of the Doomed, Gonzo Papers Vol. 3: More Notes on the Death of the American Dream; Better Than Sex, Gonzo Papers Vol. 4: Trapped Like a Rat in Mr. Bill's Neighbourhood, and most recently, The Proud Highway: Letters from a desperate Southern Gentleman. There are two extremely rare books, Screwjack and Mistah Leary...He Dead which make up his limited edition work. His long lost novel, The Rum Diary is expected to be released in October 1998. A more legendary unseen book is Polo is my Life, which was due in March 1998, but was suddenly cancelled.
Dr. Thompson is a man of strange and bewitching charisma. He is 6'2" tall, and, due to the fact that one leg is longer than the other, tends to bob about like a freakish marionette. He is always thirsty; his favourite drinks are Wild Turkey and Chivas Regal. He has one son, Juan Fitzgerald Thompson (who himself has a son, named William), and was married to Sandra Dawn Conklin. He remarried in 2003, to Anita Bejmuk. Besides writer and failed politician, Dr. Thompson is also a peacock and gun collector, ex-night manager of the O'Farrell Theatre in San Francisco, and founder of The Fourth Amendment Foundation. A responsible Woody Creek resident, Dr. Thompson's certification came from a mail-order church in the sixties while he was in San Francisco.
There have been many media treatments of Dr. Thompson. The most recognizable is the "Uncle Duke" character in Doonesbury by Garry Trudeau, followed by the cult movie, Where the buffalo roam starring Bill Murray and Peter Boyle. The most recent is a FLLV spoken word CD and the movie version of FLLV which was released May 22, 1998 and stars Johnny Depp and Benicio Del Toro, superb direction by Terry Gilliam.
He passed away on the evening of February 20, 2005, as the result of a self-inflicted gunshot wound. You can read the details of his passing, as well as tributes on the memorial page.

This rather infamous skull is from the Warron Zevon CD Learning to flinch. While I haven't heard the CD, or a song on it called Roland the headless Thompson gunner. I thought this was just a neat gif to put up *smile*. I found it at Joe D's wild web page.
I profess to knowing almost nil on Warren Zevon :). However, this little bit from a helpful fan clears things up:
The Roland that the song draws from is a character in the play "Arms and the Man" by George Bernard Shaw; while I can't yet recommend the play as I've not read it yet (though it sits on my shelf next to Vol. I of The Great Shark hunt as a summer must) I can however strongly recommend a listen to the album by Warren. I don't know if you're very familiar with his work, but it is far superior to any studio recording he has done to date - I'm mostly certain that it's the only live recording out there (in stores anyway). I think it's interesting to see the link between our beloved Mr. Duke and the equally misanthropic Mr. Excitable. I think the two share a great deal of attitudes towards this, our human race.
What Is Gonzo Journalism?
Gonzo journalism is a highly subjective and extremely personal form of reporting. While Dr. Thompson's writing style has not changed dramatically since the sixties (although his form has), the first piece of writing to be called gonzo was The Kentucky Derby is Decadent and Depraved written for Scanlan's and illustrated by the Welsh cartoonist Ralph Steadman. As the deadline approached, and with his article still not done, Dr. Thompson resorted to ripping pages out of his notebook and send them to the editors. What resulted was "gonzo", as Bill Cardoso called it. (Gonzo is really an Italian word for absurdities - gonzagas. Cardoso claimed it was a corruption of the French Canadian word "gonzeaux" which means "shining path". To my knowledge, no such word exists).
Fear and Loathing in Las Vegas: A Savage Journey to the Heart of the American Dream followed in 1971. It has become a cult classic and was recently turned into a CD recording. F&L is a failed experiment in gonzo journalism. Thompson says this himself. He had intended it to be a record of everything he did as it happened, and unedited. Thompson rewrote and edited F&L five times!
Gonzo journalism has been called outlaw journalism, literary cubism, new journalism and other words I can't repeat here. Many see it as an offshoot of the New Journalism movement in the sixties, led primarily by Tom Wolfe. In other words, NJ breaks all the rules of traditional journalism. This, however, is not exactly true. The changes in journalism made at the beginning of the 20th century is the original NJ. Some people argue that NJ really isn't new, since objectivity has been the great myth of journalism. As hard as media sources try to be objective, they can never truly achieve it. Everything from space limitations to illustrations infringe on objectivity.
Gonzo journalism is characterized by the use of quotes, sarcasm, humour, exaggeration, and profanity. Dr. Thompson bases his style on William Faulkner's idea that "the fiction is often the best fact". While the things that Dr. Thompson writes about are basically true, he uses satircal devices to drive his points home.
Another feature that makes it unique is that true gonzo writing is unedited. A notorious misser of deadlines, Thompson often drove editors nuts because he often faxed articles late, too late to be edited but just in time to make the printers. Dr. Thompson sees the fax machine, or "Mojo Wire" to be the ultimate communications instrument, as one can send information anywhere in seconds.