Articles and Essays
+
Original jacket copy
+
1972 About the author
+
Michael L. Johnson
+
Motorcycles
+
Quick Reviews
+
Tom Wolfe
Covers and Pictures
+
Original hardcover
+
Original paperback
+
Mass trade cover
+
Penguin & Ballantine
+
Australian/British edition
+
1972 Canadian Paperback
+
Modern Library Hardcover
+
Esquire, January 1967
---

---
Hell's Angels - First Edition
Page added: 1997
Last updated: 2005
For three whole weeks, a terribly old copy of Hell's Angels was mine. It is hardcover with black boards and orange embossing. You can see the front and back covers for yourself.
This is what was on the front cover board: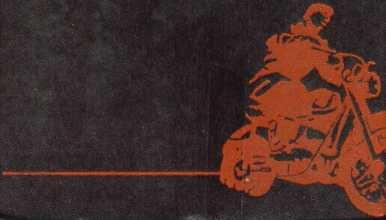 The lettering is in orange and white. The back cover is a strange orange photograph of HST. Makes Doc look rather tallow. The "about the author" section is printed on the inside normally. But on the back cover, it appears like this:
HUNTER THOMPSON
is a free-lance writer from San
Francisco, Aspen and points east. His
research on the Hell's Angels involved more
than a year of close association with the outlaws
-riding, loafing, plotting, and eventually being stomped.
A native of Louisville, Kentucky, he began writing as a
sports columnist in Florida. He started his first novel while
studying at Columbia University in New York City. Since then
he has worked on newspapers and magazines in New York, San
Juan and Rio de Janeiro. His articles have appeared in The
Reporter, The Nation and Esquire.
In the early sixties, while working as a Caribbean stringer for the
New York Herald Tribune, Mr. Thompson began a second novel,
The Rum Diary. It was finished in Big Sur and will soon be pub-
lished by Random House. Later he became a South American
correspondent for the National Observer, living on Copa-
cabana Beach and traveling extensively throughout that
continent. Upon his return to this country, suffering from
amoebic dysentry and culture shock, he retired to
hunt elk and breed Doberman pinschers in Woody
Creek, Colorado. Mr. Thompson is twenty-nine
years old and lives in California with his wife,
Sandy, and small son, Juan. He is known
as an avid reader, a relentless drinker and
a fine hand with a .44 Magnum.
Jacket design is by Joseph del Gaudio (who seems to still be designing book covers), photos by HST, and copy is believed to be by HST as well. The jacket copy is most interesting:
Roll em boys...Early, with ocean fog still in the streets, outlaw motorcyclists wearing chains, shades and greasy Levis roll out from damp garages, all-night diners and cast-off one-nights pads. The Menace is loose again, the Hell's Angels...wearing the winged death's-head on the back of their sleeveless jackets and packing their "mamas" behind them on big "chopped hogs." They ride with a fine, unwashed arrogance, secure in their reputation as the rottenest motorcycle gang in the whole history of Christendom.

The run was on...Outlaw motorcyclists rolled in packs toward their annual July Fourth outing, a time for sharing the wine jug, pummeling old friends, and generally terrorizing the populace. One non-Angel rode with them: Hunter Thompson, who in a year of close association had earned the exclusive right to be their "writer in residence," on a basis of temporary security from being stomped or chain-whipped. What do outlaw motorcyclists do, closed off from every decent citizen, in an orgiastic camp surrounded by thrill-seekers, uneasy highway patrolmen, and Army recruits ready to be bugled out of bed and issued bayonets?

From the beginning, Hunter Thompson goes not only behind the scenes at the run, but back through the drama of the menace being born: How did a gang of local motorcyclists become nationally infamous, with storm warnings going up all across the country at the mere rumor of their approach? Backing up his own experience of the Angels with official reports, newspaper write-ups, eyewitness accounts and unpublished letters, Mr. Thompson arrives at the disturbing fact that until now almost everything printed about the Angels is pure fiction: born of a national rape mania, story-hungry editors and the actual impossibility of knowing what went on. Mr. Thompson re-creates the transformation: hoisted on the shoulders of fantasy by the awesome power of the press, an almost defunct motorcycle club was transformed into Dillinger-style villians.

The story began for Hunter Thompson in a sleazy San Francisco dive, where he met some of the Angels, but from there it took unpredictable shifts as he personally became more and more involved with violence - finally pushing his luck too far. The book reads like a novel, with exciting tales and life-size characters: Charger Charley the Child Molester, Big Frank who jerks out eyeballs, the woman who feels a faint burning in her nerves every time she hears a motorcycle; Tiny, the Angels' "enforcer," who earns his living as a bill collector; latent homosexuals, runaway virgins, Mama Lorraine, auctioned off for twelve cents; and a mind-spinning finale of hired private gunmen, country toughs, a giddy chamber of commerce, capacity crowd of bystanders, detectives, vigilantes, and fired up cops.

This book is part of a broad comment on the modern tendency to violence. But it is also a book to read for pure entertainment - written with energy and the intensity and excitement of a man who can't slow down. And neither will the reader, as the outlaws sweep past "like a burst of dirty thunder..."