Articles and Essays
+
Original jacket copy
+
1972 About the author
+
Michael L. Johnson
+
Motorcycles
+
Quick Reviews
+
Tom Wolfe
Covers and Pictures
+
Original hardcover
+
Original paperback
+
Mass trade cover
+
Penguin & Ballantine
+
Australian/British edition
+
1972 Canadian Paperback
+
Modern Library Hardcover
+
Esquire, January 1967
---

---
Motorcycles Mentioned in Hell's Angels
I'll have to update most of this page now that the actual models used in the book are on the web :-) I took out everything I wasn't sure about.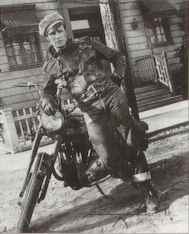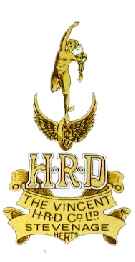 The Wild One, the classic film starring Marlon Brando, is referred to constantly in Hell's Angels. When people thought of Hell's Angels, they inevitably thought of The Wild Ones. Brando rode a Triumph Thunderbird, an enlarged version of the Speed Twin.
On the right is the logo of the infamous Vincent motorcycle company. The Vincent Black Shadow seemed to have a permanent impact on HST. Not only is it mentioned in Angels, but FLLV and Campaign Trail, plus the article "Song of the Sausage Creature". After many years, the Vincent Motors resurfaced in 2002 to the delight of many enthusiasts.